FOR IMMEDIATE RELEASE
Stephen Foster and Mark Twain, the two nineteenth century luminaries, will visit The Ark in Ann Arbor, Michigan on Thursday and Friday, July 24 and 25, 2003.
"Reports of our demise, in 1864 and 1910 respectively, have been greatly exaggerated;" says Mr. Twain.
"Subsequent reports that we are returning merely to settle accounts with our creditors are untrue," says Mr. Foster. "We are deadbeats. We are coming back to have a good time."
Mr. Foster and Mr. Twain became acquainted in a post-mortality stress recovery group and decided that method acting in the cosmos would play just as well back home.
Mr. Twain tells stories and ruminates. Mr. Foster sings some of his famous songs. Both gentlemen reveal little known facts about themselves to prove they are ordinary men, not the geniuses they have been cracked up to be.
"Simple pleasures are best, Mr. Twain"
"That is a bromide, Mr. Foster. Or a line from one of your songs."
"Just so, Mr. Twain. I found it in a fortune cookie."
"Mr. Foster and Mr. Twain" (a theatrical event in the great American tradition) may be enjoyed for a small consideration. Also, libations somewhat stronger than sarsparilla will be available if prescribed. (Rx: In the event of comic anomaly, stay seated and apply a poultice of cigar smoke and bourbon until the event has passed.)
For more details, use Mr. Bell's device. (734) 761-1451 ("hot line") or (734) 763-TKTS.
---
Mark Twain and Stephen Foster live!

Come set awhile and enjoy the lively banter between America's great humorist Mark Twain and America's preeminent 19th-century songsmith Steven Foster. The spirits of Twain and Foster have never been more alive, thanks to performers Chuck Mitchell and David Marion. These two have traveled the country spouting bits of wisdom and hooking audiences to join in on songs like "Old Susanna" and "My Old Kentucky Home."
2004 SUMMER TOUR
July 19 - 22, Stafford's Bay View Inn, Petosky, Michgan
July 28 - August 1, The Golden Lamb, Lebanon, Ohio
August 2, Hoover Auditorium, Lakeside, Ohio
August 7, The Metropolitan Club, Covington, Kentucky
August 9 - 10, The Ark, Ann Arbor, Michigan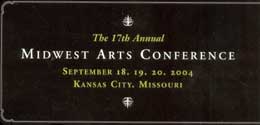 September 18 - 20, Midwest Arts Conference, Westin Crown Center, Kansas City, Missouri. Join us at booth 433!